---
Auditions

Events

Rehearsal Schedules

Interviews
Photos
Reviews
More Fun Stuff!
---
The Super Handbook
Tips, Tricks, and FAQs
San Francisco Opera
Links
Classifieds
Contacts
Archives
Members Only
Spearheadnews.com is not officially affiliated with any performing arts organization.
All photographs remain the property of their copyright holders.
©2003 SpearheadNews
All Rights Reserved
The Lichtman Cometh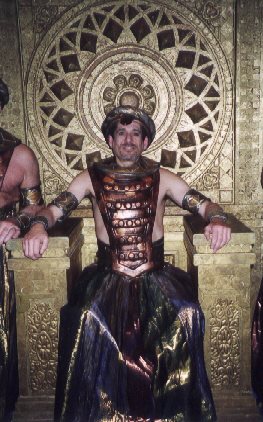 Charlie Lichtman wears many hats. Literally, as he has been in 36 SFO productions over the last seven years, and figuratively: actor, singer, "phone guy" (designing telephone systems for homes, home offices and businesses), playwright (The Fractured Fedora), lightwalker, Super Committee member for three years, Production Super Captain. Herewith, a closer look at his Super career.
A native New Yorker, Lichtman "took ten years of piano lessons as a child and sang in the PS 82 Chorale (we sang at the 1964 World's Fair one time!)" He went to Science High School and City College of New York, earning a degree in Organic Chemistry. In 1972, he made the move to San Francisco.
Charlie began going to the opera a mere twenty years later, during the 1992 season, when "a friend of mine was complaining that her boyfriend wasn't much of a cultural guy, so I got tickets for L'Elisir d'Amore and A Midsummer Night's Dream. I also got hooked."
Four years later, he was at Opera in the Park in Yerba Buena Gardens. During the intermission someone made an announcement about a call for new Supers, mainly for Carmen. He went to the cattle call in the Ballet Building and, although not making into Carmen, he did get cast in Prince Igor.
Of all his rôles over the years, this still remains his favorite. "It was my first opera so everything was totally new to me. I had three different costumes and was on stage at least an hour and a half – what a great first experience! Every time I hear the overture on the radio I get goose bumps." As to Carmen, a recent production became his least-enjoyed rôle: "that fourth act behind-the-scenery parade with a 1½-second peek and a wave to the audience through the archway. It seemed totally pointless, although I did have a lot of laughs backstage with the other Supers."
When he was asked "Which rôle would you say represented you personally?", he replied "Probably L'Elisir d'Amore because my character was one of Belcore's comical 'farmer/soldiers,' and after all the serious rôles onstage, it was a breath of fresh air to be able to be funny. I am already envious of the Bohème waiters as they all get pies in their faces at the end of Act 2 – now there's a part I wish I had!" Anyone who has hung out with Charlie backstage knows of his wit and gift for finding humor in various situations and appreciates knowing that it translates onstage.
"I do like being cast as a guard or soldier and, luckily, the repertoire is full of those characters. Also, priests, slaves, townspeople, executioners, peasants, Trojans, lackeys, and fishermen all have their particular appeal. I have been lucky enough to have a few 'cameo' parts: two in Der Rosenkavalier, and in Samson et Dalila, I was lucky enough to be one of the two soldiers to chain Samson to the pillars at the end of the show. I also feel very important when I'm called upon to be a cover, since I am obliged to learn many different parts. This really came to life in the recent Trovatore, when I was the cover for 18 men, and went on for final dress and 7 of the 8 performances. The other nice thing about being a cover is that if you don't go on, you can see the show."
Other favorite onstage moments Charlie remembers are "the beautiful second act sextet in Don Giovanni (we entered with the principals and had no other stage business other than to stand and watch until the end of the scene); the bar fight scene in Otello – 30 hours of fight practice for 30 seconds of stage time, but it was totally fun; and the goofy soldiers' entrance and scene in L'Elisir d'Amore."
Of course, such moments are not without their unfortunate counterparts: "I once got knocked on my nose by a descending piece of scenery during a scene change late in the second act of the final dress of Don Giovanni. Although I later found out that the entire incident was visible to the audience, for me the stage was dark and I was knocked down to my knees. Luckily we only had to place a chair, bow to Donna Anna, then leave, but the look on Ron Mann's face when we turned to each other to exit was priceless. I had a little stream of blood running down my nose, and had five minutes to do a costume and wig change before the very last scene.
"Among the worst moments I've had onstage was on the opening night of Rosenkavalier, during the 'presentation of the rose' scene, when we were supposed to be cued by off-stage ADs and ASMs. I don't think they knew the cues very well, and we wound up looking like Keystone heyducks. We were able to convince them to teach us the cues musically, and after that the scene went totally correctly."
Aside from the many hats mentioned above, Lichtman has worn many costumes: "I really liked the cut of my Otello soldier's costume; however, I have to say I like nearly all of my costumes, no matter how uncomfortable they may be (such as the ninja-turtle guard in Turandot and the executioner in Don Carlos). Other costumes that really stand out for me were my Samson et Dalila gold lamé Babylonian soldier, and the Commedia del'Arte costume for Betrothal in a Monastery . I actually got to buy the very costume I wore in Norma in one of the opera's costume-shop sales. Among my least favorites was the head-to-toe black rubber fisherman suit in Kat'a Kabanova."
Asked about some favorite backstage memories, he replied: "It was Sunday, November 2, 1997, the date of the opening performance of Guillaume Tell, and it was a matinée – one of those warm Indian Summer days – so warm you're almost sorry you have to be in the opera house. It was my second year of supering, and I was cast as an alternate.
"Although I did get to go on for three of the seven performances, everyone showed up for the opening, and I thought I wouldn't get to be on stage that afternoon, until Mark Burstein handed me a headband with some feathers and told me that we were going to 'streak the stage' during the overture.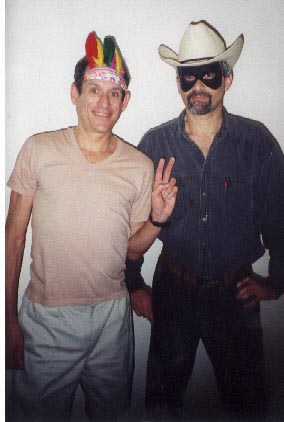 "I didn't quite get it until I saw Mark with his cowboy hat and mask, and realized I had been conscripted to be Tonto to his Lone Ranger. Once the 'William Tell' overture began we made our way to the wings, and waited until the horns heralded the well-known part; then Kimosabe and his faithful companion slipped onto the stage. With the curtain in and the chorus preset (and having secured the Stage Manager's permission), we galloped up the ramp and down to the other side, looking for imaginary rustlers or flat tenors, or something. As soon as we stood on the ramp, one of the techs threw a spotlight on us and it followed us until we exited stage right with a hearty "Hi-Ho, Silver!" amid much laughter."
Charlie has also supered with the SF Symphony (Candide) and has had many assignments with the SF Lyric Opera, including stage-managing a production of Carmen, singing in the chorus of Andrea Chenier, and singing the role of Happy the gold miner in La Fanciulla del West.
Asked for advice for new Supers, he responded "Although it seems laid back, being a Super requires a great deal of energy and concentration. I always recommend having some food in your stomach before a rehearsal or performance, even if it's only a chocolate bar or something. And always be very careful backstage: the area is extremely complex and full of accidents waiting to happen." Asked why he supers, Charlie said "I find it very interesting experiencing a production going from nothing to a complete opera. I find it exhilarating being a part of it, and being so close to principals and surrounded by music. My non-opera friends call my involvement with SFO my 'parallel universe', and they're so glad I have many Super friends with whom I can talk about opera, thus sparing them from a very one-sided conversation."