---
Auditions

Events

Rehearsal Schedules

Interviews
Photos
Reviews
More Fun Stuff!
---
The Super Handbook
Tips, Tricks, and FAQs
San Francisco Opera
Links
Classifieds
Contacts
Archives
Members Only
Spearheadnews.com is not officially affiliated with any performing arts organization.
All photographs remain the property of their copyright holders.
©2006 SpearheadNews
All Rights Reserved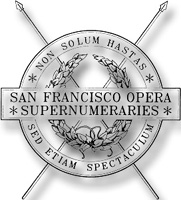 If you are a currently active SFO Super and do not have a password, request it here.