---
Auditions

Events

Rehearsal Schedules

Interviews
Photos
Reviews
More Fun Stuff!
---
The Super Handbook
Tips, Tricks, and FAQs
San Francisco Opera
Links
Classifieds
Contacts
Archives
Members Only
Spearheadnews.com is not officially affiliated with any performing arts organization.
All photographs remain the property of their copyright holders.
©2004 SpearheadNews
All Rights Reserved
An Interview with Joshua Bloom
As a follow up to that recent movie from Australia, Danny Deckchair, we now bring you the exciting adventures of Joshua Jetset in tribute to the many venues in which this promising young artist has appeared so far,
and without doubt will expand upon in the future. Joshua was, of course, our Marchese d'Obigny in La Traviata, the First Mate in Billy Budd, Cesare Angelotti in Tosca, and the Black Politician in Le Grand Macabre this fall, a range of roles that well displays his versatility. His mainstage debut with SFO occurred last season, as the Second Student from Krakow in Doktor Faust.

It all began in Melbourne where Josh was born and raised. His father, originally from Chicago, is a flautist who studied at Julliard and the University of Indiana before joining the orchestra of the Scottish Opera. He eventually wound up in Australia as the Associate Principal Flautist with the Melbourne Opera Orchestra. It was there that he met and married Josh's mother, who played clarinet.

Josh's first instrument was the trumpet, which he took up at the age of four, but had to give up at the age of five because he was losing his first teeth. Then, at eight, he began studying the cello (he thought the spike coming out of the bottom was cool) and played that instrument until he was eleven. At that time he heard of a string ensemble looking for a bassist, so he switched to playing the double-bass (an instrument that was somewhat bigger than he was at the time) and played with the ensemble until he was fourteen. Joshua admits that he hasn't touched the double-bass since he was about eighteen. During this time, from the age of eight to fifteen, he was also a member of the Saint Paul's Cathedral Choir and attended high school on a music scholarship. At university, where he took a Bachelor of Arts degree in History, he became interested in the theater. When there was an audition for the musical Chess, he tried out and got a small part. He almost left the show in the rehearsal period because the lady director was so difficult to work with (she was even worse than the Billy Budd director). A member of the cast told him that he should be patient and stick it out. He also told Josh that he had talent and should start vocal lessons. This he did at the age of nineteen and started performing in many amateur and professional shows thereafter.

Joshua made his major operatic debut at the age of twenty-three as a high baritone singing Figaro in a production of The Barber of Seville with the Oz Opera of Australia. Josh is pleased to note that he is the third Australian to attend the Merola program and become an Adler Fellow; following in the footsteps of Daniel Sumegi and Stuart Skelton. He is also proud to have been sponsored by our own "Opera Mom" and beloved Super, Pat Beresford.


His favorite role, so far, has been Dandini in La Cenerentola with Opera Australia. Josh was the cover at first, but when the original artist who signed for the part never showed up, he took over the role and sang for the entire run. The most challenging part, Josh thinks, is probably Don Basilio in Barber. This was for Merola, and doing it the justice it deserves is "a bit tricky". This role has also been the most rewarding when performed with his fellow Adlers.

As for the future, Josh would like to try his hand at Scarpia, Nick Shadow (The Rake's Progress), all the villains in The Tales of Hoffmann and maybe even a Falstaff someday. These are all fantastic roles for such a gifted singer as Josh, who is a great comedian to boot. When I suggested that he might even steal the title of "The Clown Prince of Opera" away from Anthony Laciura, he laughed, with a wink in his eye.

We now come to what is always my favorite question in an interview. What is the worst thing that ever happened to him onstage during a performance? Joshua was singing the role of Paris in Romeo et Juliette and during the wedding scene, right after she has taken the sleep-inducing potion and collapses, he was supposed to pick her up in his arms (sacrifice style) and, after a very long time, carry her up a steep rake and lay her in a glass coffin. In this performance he picked her up successfully, with chest out and stomach tucked in, when suddenly a button flew off his pants. "My God" he thought, "my pants are going to fall down." So he popped his tummy back out to hold them up and gingerly made his way up to the coffin with nothing embarrassing coming to light.

In a a production of La Boheme, the Colline announced to his colleagues before the start of the opera that in the café scene instead of "La commedia e stupenda" he was going to sing "La chlamydea e stupenda." He did and everyone on stage broke up with laughter and lost their places in the music. In another Boheme, another Colline forgot his place and called out "Salame!" after Parpignol's first off-stage shout instead of the second, thereupon totally confusing the Rodolfo and the conductor and putting them into a panic.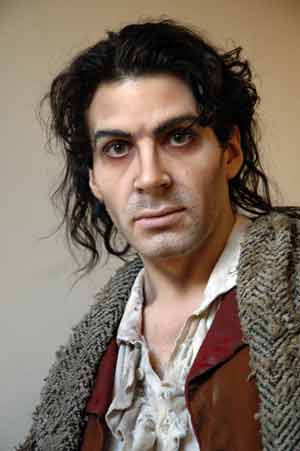 For the first four months of 2004, Joshua was at the Vienna State Opera for two roles with that renowned company: Fiorello in The Barber of Seville and the Imperial Commissioner in Madama Butterfly. At the same time he was also covering a role in Billy Budd, the same production we experienced here, and yes, the rehearsals were just as contentious there. He loved his all-too-brief stay in Vienna, enjoying the sights, the music, the history, the food and, especially, the beer.

Between touring with the Oz Opera in Australia and with the Western Opera Theater in the U.S., Josh has sung in quite a few cities, thus the soubriquet "Josh Jetset." And, after recently spending a little time in London, he hopes that contacts will be able to present him there in recital.

Joshua feels right at home here in San Francisco because the climate is similar to that of Melbourne except for their very hot summers. He will have the opportunity to sample said warm holiday weather when he returns to Australia in mid-December for ten performances with Opera Australia as Giuglielmo in Cosi Fan Tutti, and plans to squeeze in four whole days at Christmas with his family in Melbourne. He returns to start his second year as an Adler Fellow in February. At that time he will start preparing two roles for the Opera Center's Showcase 2005: that of Umberto in Pergolesi's La Serva Padrone and the Father-in-Law in Milhaud's Le Pauvre Matelot.
- Tom Carlisle
Go backstage with Joshua Bloom as he is transformed for his rôle in Le Grand Macabre.