---
Auditions

Events

Rehearsal Schedules

Interviews
Photos
Reviews
More Fun Stuff!
---
The Super Handbook
Tips, Tricks, and FAQs
San Francisco Opera
Links
Classifieds
Contacts
Archives
Members Only
Spearheadnews.com is not officially affiliated with any performing arts organization.
All photographs remain the property of their copyright holders.
©2003 SpearheadNews
All Rights Reserved
Super Humans by Ulrica Oliver's Bash!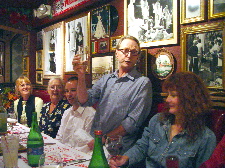 SOMA restaurant Buca di Beppo was abuzz with Super Star Power Monday night as we gathered to bid Addio to Oliver Pollard before he heads back to Michigan for a serene, costume-fitting-free retirement by the Lake.
Against a backdrop photographs of Sophia Loren, twenty-one Supers and members of the Company gathered for a festive Italian dinner of garlic bruschetta, garlic with rigatoni and garlic with eggplant. The guest list included renowned Chronicle reporter Stephanie Salter, hotelier Kimberly Thompson, committee members Susan Anderson and Sally Warren, international super Andrea Kohlruss, "It" boy Bradly Hamilton, and glamour Supers Irene Bechtel, Trey Alonso, Katherine Brazaitis and Nancy Huie. "Phone Guy" Charlie Lichtman was flanked by popular ASM Kathleen Edwards and beloved make-up artiste Denise Guttierez, while former Super Captain Albert Goodwyn made a welcome return to the scene of his farewell party a couple of seasons ago. Sadly, current Super Coordinator Carrie Murphy had to work (despite it being a Monday night) and Bruce McNaughton called in sick with a bad cold.
As Ray Sullivan was quick to note, a few minutes of a general pleasantries soon turned into delirious conversation on our favorite subject, "Being a Super," with everyone reminiscing about roles past and complaining about the dearth of roles present. Photographer John F. "Digital" Martin proposed a toast and Oliver made a heartfelt speech on his fond memories of being onstage, which left Ulrica sobbing into her Chianti. SF realtor and TV personality Milko ("Got Milko?") Encinas hopped from table to table, seemingly being in several places at the same time. Laurel Winzler presented the guest of honor with one of her signature floral tributes, as numerically-challenged Andrew Korniej tried to make sense of the check; more dollar bills were flying around than during a tornado in a Las Vegas casino.
No sooner had your correspondent crawled home and taken off her tomato-stained party frock than multimedia whiz Mike Harvey had his excellent photographs posted here on the website. Spearheadnews.com is the CNN of the spear-carrying world…