Gratuitous Bodybuilding Issue
Hello Sailor … new in town?
Seems that SFO will be needing as many as 22 ripped bodybuilder types to go shirtless in this fall's all-male Vienna Staatsoper production of Benjamin Britten's Billy Budd.
One of the duties to be asked of some of the sailors will be to carry Billy himself, baritone Nathan Gunn. Nathan has sung the role of the beautiful, idealistic and ill-fated young sailor extensively, throughout the world.
Gunn has a robust voice as well as a keen musical intelligence, not to mention a hunky physique. Last year, in the title role of a riveting production of Billy Budd at the Lyric Opera of Chicago, barefoot and often shirtless, Mr. Gunn climbed rigging, staved off fights with other sailors, and sang the role "poignantly, fully conveying Billy's winsome and, in the end, fatal innocence," wrote Anthony Tommasini in the New York Times of Sunday, December 22, 2002.
He made his SFO debut last season on a Sevillian Vespa in Rossini's Il Barbiere and many have been anxiously awaiting his return.
Ulrica's suggestion to Supers is to start working out now so as to be in prime shape for the auditions sometime in late July or August. For the non-bodybuilder-types there appear to be eight non-sailor male roles so competition might be fierce for those.
Watch this website for further details or email us to be reminded nearer the time.
Ulrica is so hoping to be involved in those auditions and she will be sure to keep you all posted. Meanwhile she suggests you take a look at the very entertaining Classic Bodybuilders website for a few more beefcake recipes.
But please no steroids! Ulrica would hate to see Supers caught up in another Greg Anderson/SF Giants type scandal, still rocking the baseball world.
Besides she feels strongly that anabolic steroids be used only during gubernatorial recall campaigns.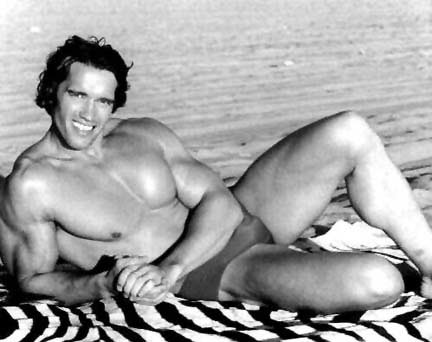 ---
---
Any good gossip? Please send it to Ulrica !
"Gib mir den Kopf des Jochanaan"
Super favorite Karita Mattila continues to take the opera world by storm with her searing interpretation of Strauss' Salome at the Paris Opera and the Met. Dare we hope to see SFO bring her here for it? Hasn't Salome been promised us as a "Woman Outside of Society" next Season?
Anyone who attended the 2002 performances of Janacek's Kat'a Kabanova will remember seeing her plucked from the water by a contingent of rubber-clad Supers who carried her lifeless body to a coroner's gurney.
My spies tell me that this was not always a flawless procedure, occasionally taxing Ms. Mattila's patience and enthusiasm for the production. However she became good friends with the Supers, some of whom made a trip to Berkeley early last year to see her in recital at Zellerbach Auditorium and were warmly greeted by her as "colleagues" during a post performance backstage visit. At that time SFO General Director Pamela Rosenberg was seen in deep conversation with the diva but Karita would not disclose any future plans with SFO…
If you haven't seen Karita onstage, the Spearhead highly recommends her recent DVDs of Fidelio and Don Carlos. In Fidelio she managed to transform herself into a very butch Teutonic version of Frank Chambers (John Garfield) in The Postman Always Rings Twice. In Don Carlos she was a picture of repressed sensuality dressed in crimson against a background of snow and ice.

---
Summer Season
And baseball may be all we have to look forward to ... according to an article in his week's SF Chronicle.
Ulrica diplomatically wishes all parties good luck with their negotiations and hopes for an amicable resolution, yet agrees with webmaster Mike Harvey's suggestion that the possibly-out-of-a-job La Bohème waiters entertain the picket lines with their plate-throwing antics.
Finally for a look back at a more amusing column than this,
check out our ever-expanding War and Peace retrospective, including some Herb Caen items.