---
Casting News

Events

Rehearsal Schedules

Interviews
Photos
Reviews
More Fun Stuff!
---
The Super Handbook
San Francisco Opera
Links
Classifieds
Contacts
Archives
Members Only
Spearheadnews.com is not officially affiliated with any performing arts organization.
All photographs remain the property of their copyright holders.
©2007 SpearheadNews
All Rights Reserved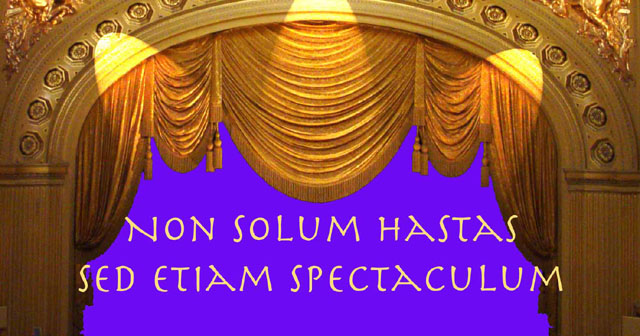 Non Solum Hastas Sed Etiam Spectaculum
The unofficial motto of the San Francisco opera Supernumeraries roughly translates to "We not only carry the spears but also the show."

A Supernumerary or "Super" (sometimes called a "spearcarrier") is a nonsinging, nonspeaking extra (actor) typically in an opera, but also in ballet and theatrical productions. The San Francisco Opera has long had a very dedicated band of Supers who have established a good reputation with directors and who have a strong sense of community among themselves. We have a Super Committee that works with the Opera House Management (here is their Mission Statement). Some Supers on the current roster have been supering since the Sixties and others started only yesterday. We also assist the Production Staff by posting current scheduling and casting information on this site.

If you are interested in becoming a Super at the San Francisco Opera, please review of the application process. There are also many other ways you can help the Opera by volunteering for lightwalking or participating in one of our fundraising activities.
Andrew Korniej, a long-time Super, would be happy to answer any further questions.