I, Robot
Some of us know David Calkins from his supering in Il Trovatore; others may know he's also the Web Channel Manager for the SFOpera's official website. But he's also a prankster with a zany sense of humor and a robot maven . In some of his other lives, he:

+ drove from San Francisco to New York with three Doggie Diner heads (and a "bunch of freaks") -- see Laughing Squid, which has links to writeups in the Chronicle and an appearance in "Farley." It was also immortalized in "Zippy the Pinhead."
+ organizes the annual Urban Iditarod and the Emperor Norton Open, "urban golf's premier event."
+ is a core member of the Cacophony Society which, according to Forbes, is "a loosely knit, apolitical band of 'culture jammers' that's been making mischief in and around San Francisco since 1986. Most famously, its early members played an instrumental role in the Burning Man festival's explosive growth." They once staged a barbecue in Union Square promoting feral pigeons as a renewable food source (tongue-in-cheek, of course), which is where David met his fiancée.
+ is president of the Robotics Society of America. His impressive resumé includes having been profiled on CNN.com, the New York Times, Time Magazine Asia, and many other television and print media appearances. He organizes and promotes their semiannual "Robot Games and Expo" -- the largest amateur robotics show in the U.S. See the cartoon in the Chronicle.
+ generally "does his best to stay in trouble." Here he is on MTV2 dressed as "Lecho the Clown."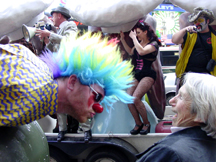 The Wonder of It All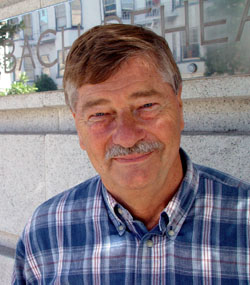 The Oakland Tribune recently paid tribute to long-time civil servant Roy Wonder, mentoning his passion for opera and his then upcoming stage debut in Don Carlos.
Super Bob Ericson (at left, in Don Carlos) writes "I am an international TV star! OK, I am exaggerating a little. I have to admit my star is not so big. In fact you would have to find it with the Hubble Telescope. But I did just finish filming a supporting role in a Japanese TV show. For those of you not in the biz, a "supporting role" means that my name appears in the credits and that the part was integral to the story. It was only a one-day gig but it was a great experience. This was a big step up for me as I spent about 8 hours with cameras in my face delivering real lines. Too bad they are dubbing my voice into Japanese and the show will never be seen in America .
"The name of the show is World Stunning News and it features reenactments of unusual news stories from around the world. The title of this episode was 'The Girl in the Box,' a horrible news story that you may remember from the 80's. What happened was that a young girl by the name of Colleen Stan was captured and held as a sex slave for 7 years by Cameron Hooker and his wife. Most of the time, they kept her in a coffin-size box under their bed. It was based on the book Perfect Victim - The Girl in the Box.
"I played Colleen Stan's father. We spent most of the day filming in a beautiful home located in the hills above the San Francisco airport, which had a spectacular view of the bay. (Too bad my pretend home was so much better than my real home.) I filmed scenes with actors playing my wife, my daughter (Colleen's sister), Hooker, Colleen and a police detective. Believe it or not, Cameron Hooker once took Colleen Stan home for a day visit about two years after she disappeared. Most of the filming revolved around the visit. As incredible as it sounds, Colleen did not tell her parents what had happened and voluntarily went back with Cameron to be a slave. That is real brainwashing.
"The set was a hilarious experience even though the subject was so serious. If you saw Lost in Translation, it was just like that scene in the movie. Imagine a room full of Japanese crew members with four American actors. The Americans didn't speak any Japanese and only two of the crew spoke any English at all—very badly. The director had to pantomime his instructions while the interpreter told us in broken English what to do. The director and staff would have unintelligible arguments for several minutes; then the interpreter would say something like 'turn you head to the left.' Repeat this scene over and over again. It is all we actors could do to not bust out laughing.
"This was the first job I have had in a long time: Even the film industry is suffering from a recession and they haven't shot as many movies lately. I consider acting a hobby anyway. Let's hope this means the prospects for a real 'day job' are getting better."
Bob joined our ranks literally as a spearcarrier in the 1997/98 Aida. He writes, "The fact that I have been in 12 SFO productions gave me the acting experience and confidence to take on this role. Acting before a camera crew is easy compared with the pressure of a live performance before 3,000 of America's finest. At least when you make a mistake on camera you can just do it again. On stage every take has to be perfect."
His wife Rosemarie is also a Super and they have often appeared together in productions and lightwalking. "We are frequently referred to as "The Ericsons" because we are see together so often. Rose and I cherish the friends we have made in the SFO family and look forward to seeing them again soon in the coming season."
The San Francisco Choral Society in Concert
Super Elaine Adamson, who will be singing in this concert says, "If you have never been to a performance by a chorus with this many voices, you will be amazed. Recordings and TV broadcasts cannot capture how it feels to be in the audience at a live performance by a large chorus. The sound is a physical force that moves through your body. "

Click for more information and a special ticket offer for Supers.