Boa Vinda

The San Francisco Opera Supers are nothing if not internacional, and Ulrica would like to extend a hearty welcome to new Super Sergio Suhett, recently arrived from Rio de Janeiro by way of the Met.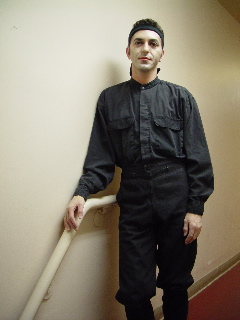 While supering there in a handful of operas he earned more than we at SFO could hope to earn in a lifetime of spearcarrying. Sergio was just seen (in the broadest sense of the word) in the black on black Il trovatore which brought to mind Bob Barcewski's description of the last Don Carlo, "If it were any darker it would be radio".
Above: supers onstage during recent Il trovatore
---
La Donna Immobile

While we're on the subject of Il trovatore, Super Walt Thorpe provided valuable assistance to beloved Azucena, Dolora Zajick, by designing a special leg support for her. Dolora is now a mobile mezzo, thanks to one of our multi-talented group.
How Green Was My Valley
The Super Committee sent flowers to outgoing SFO Costume Queen Jenny Green to wish her well in her new position at the LA Opera (rumor has it that Placido himself placed the call to join them). Contrary to popular speculation, her leaving present from the Management is NOT the missing wall clock from the basement break room. The Super Committee sent flowers (lovely pink peonies and forget-me-nots by floral artiste Laurel Winzler). As our card said, "Thanks for making us all look so good, Jenny."
A Norma Desmond Moment
In Hitchcock's Strangers on a Train (1951), remember that cute spiky-haired kid screaming on the carousel during the film's climax? Did you know he grew up to be ... dresser Joe Potter?
Six-year-old Joe was working as a stand-in during
filming of the scene in Westlake. The Great Man came
up to him and said, "Apparently you have been here
every day and will be most disappointed if you don't
appear in the film. IF there is time after filming I
will give you your own close-up." There was time, and
he did, and you can see Joe on the carousel with his
Mom screaming in the background.
---
Do you have any juicy operatic tidbits to share with fellow Supers? Ulrica wants to know. Send your news to Ulrica