---
Auditions

Events

Rehearsal Schedules

Interviews
Photos
Reviews
More Fun Stuff!
---
The Super Handbook
Tips, Tricks, and FAQs
San Francisco Opera
Links
Classifieds
Contacts
Archives
Members Only
Spearheadnews.com is not officially affiliated with any performing arts organization.
All photographs remain the property of their copyright holders.
©2003 SpearheadNews
All Rights Reserved
FROM THE VAULTS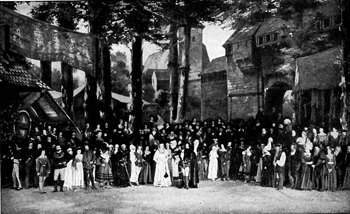 We would like this to be a regular feature of Spearheadnews.com but we need submissions from our readers (if we indeed have any). What we would like to see are large group shots from previous productions with complete or near complete Super casts. They can be from any year and any size production. Please contact Andrew Korniej if you have a photo that fits the bill. Please submit them in electronic format if you can. If not, we can scan them and we promise to return all submissions.
---
Khovanschina 1990
Die Zauberflöte 1991
Idomeneo 1999
Elektra 1991
War and Peace an eclectic retrospective of the 1991 blockbuster. (A work in progress.)