---
Auditions

Events

Rehearsal Schedules

Interviews
Photos
Reviews
More Fun Stuff!
---
The Super Handbook
Tips, Tricks, and FAQs
San Francisco Opera
Links
Classifieds
Contacts
Archives
Members Only
Spearheadnews.com is not officially affiliated with any performing arts organization.
All photographs remain the property of their copyright holders.
©2003 SpearheadNews
All Rights Reserved
Idomeneo 1999
Taking time off from the gym and looking like a page from Physique Pictorial circa 1958, this beefcake group was part of the Super contingent for the 1999 outing of Mozart's Idomeneo. We're hoping for a revival of this particular production very soon.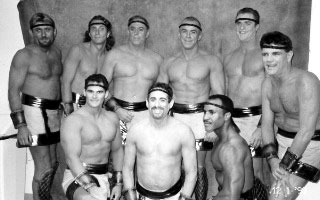 Photo courtesy of Bruce McNaughton.