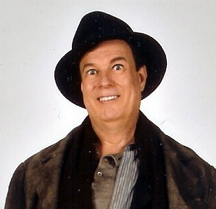 The Reed Section
SFO Chorister Tom Reed delights us with his whimsical perspective...
Tom's Résumé
Tom (Carlisle) interviews Tom (Reed)
Tom's story of his Valentine's day marriage to Ed - in the S.F. Chronicle!
Articles and Reviews
Do You Have What It Takes To Be a Chorister?
Crawling to Rome (Tannhäuser)

La Forza del Schizophrenia (La Forza del Destino)
The Peril of Pearls (The Pearl Fishers)
The Piqued Dame (Queen of Spades)
Once Again, Onegin! (Eugene Onegin)
Inside The Big Mac (Le Grand Macabre)
This Budd's for You (Billy Budd)
From a Forced Perspective (La Traviata)
Who Knew? (La bohème)
What, Exactly, Is A Second Tenor?