Click this link often for the latest news and features!
---

New Review: Figaro and Trovatore at the L.A.Opera by Andrew Korniej

Super article in New York Times

Bake Sale & Annual Party - save the date!
---

Pamela Rosenberg To Be Leaving Us
---
Les bohèmiens: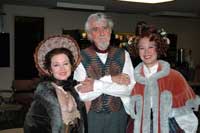 Supers & Netrebko!
Fabulous onstage video clip.
---
from the Vaults
---
---
Up and running!
---
Happy Birthday to Us!
SpearheadNews is 1 year old.


Elena Obraztsova as Ulrica